Going into the 90s as an 80s band – featuring Bon Jovi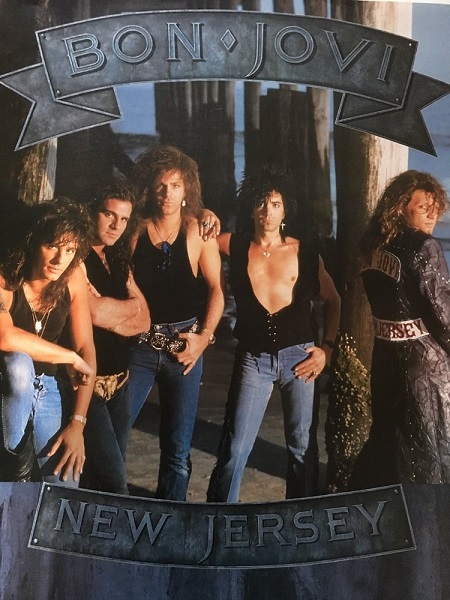 How do you make the transition from 80s to 90s as a hair metal band? No one has a definitive answer, but Bon Jovi was there and tried the best they could. They were really big in the 80s, but wasn't very good until they released "Slippery When Whet" in 1986, according to Jon Bon Jovi himself:
"We weren't a good band. We didn't become a good band until the third record, but we had a drummer who could keep time, which you should never take for granted."
"I always overlook the second album."

Bon Jovi - Come Back (1984)
On "Slippery When Wet", songwriter Desmond Child helped the band get the best out of themselves, and it obviously worked since this album became their global breakthrough. I'm impressed of how someone can take a decent band and make it a world famous band just by an outside perspective and an understanding of what will work in the specific situation and time. On their first two albums, Bon Jovi sounded more insecure and amateurish, but this changed with Slippery When Wet. "You Give Love a Bad Name" hits you directly when you hear it, as well as "Livin' on a Prayer", and both songs are instantly recognizable to this day. I believe not all people can make songs like this.
"This woman descended from the ceiling on a pole and proceeded to take all her clothes off. When she got in a shower and soaped herself up, we just about lost our tongues. We just sat there and said, 'We will be here every day.' That energized us through the whole project. Our testosterone was at a very high level back then."
– Richie Sambora about the creative process during Slippery When Wet
This is what I'm talking about. The way Jon Bon Jovi sings "I", the unmotivated constantly high singing pitch (that later ruined his voice), the glam metal lyrics, the arena bangers, the extrem masculinity AND femininity (at the same time). Why? Were Bon Jovi actually pioneers in being this "80s" or did they follow other bands behaving this way? Anyways, beyond all the image, Bon Jovi were pretty good at times. Especially on "New Jersey" from 1988 (their serious album?), which contains a lot of great compositions and cool sounds.

Bon Jovi - Wild Is The Wind (1988)
Then the 90s came. Confusion. What are you gonna do with the 80s energy when the 80s end? Can't do cheesy pop metal anymore. So…rock n roll? Hard rock? Grunge? How do we do with the hair?? What seems to be the obvious answer isn't the correct answer: get Kurt Cobain's haircut and play Kurt Cobain's music. No. You can't just remove the big reverb, the big hair and the smoking guitar solos and turn it into cool grunge music. If you're the 80s band Bon Jovi and remove the 80s, nothing's left. Removing the cheesiness equals in nothing, because the cheesiness was everything. Because of this, Bon Jovi during the 90s missed the charming lameness of the 80s and didn't have the coolness of the new 90s bands. But you can always say that "they got a more mature sound".
Apparently, at the end of the 80s, the Bon Jovi members went their own ways for a while, exhausted after non-stop recording and touring, and Jon Bon Jovi himself spent a summer alone mostly driving his motorcycle in deserts.

Bon Jovi - Keep The Faith (1992)
"Bon Jovi's fifth studio album Keep the Faith was released in November 1992, representing "the beginning of a new chapter in the history of Bon Jovi" and marking a change in the band's sound and image. The album turned away from heavy drums and wild guitar solos, but instead introduced a more mature sound of Bon Jovi and contained more serious lyrics. The media focused considerable attention on Jon Bon Jovi's hair. When Jon Bon Jovi cut his hair he made headlines on CNN." (Wikipedia)
Bon Jovi in the 80s was cheesy but good. Super-commercial but good. Bon Jovi but good.
Golden emails