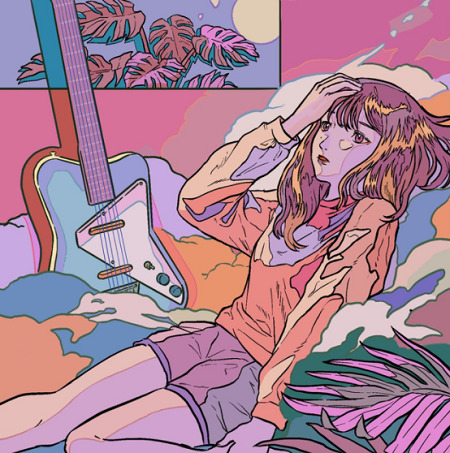 Who is Yoneko? An ex-member of alternative idol groups MIGMA SHELTER and Bellring Shoujo Heart, who went solo and thereafter completely independent by expressly leaving the "idol" life. But what does Yoneko say about Yoneko?
Yoneko says this about Yoneko:
– "An alternative singer-songwriter who doesn't play with a single guitar." (Twitter)
– "Independent. There is no adult on the back. I want to enter the office. There is an Instagram." (Twitter)
– "I want to be known to people as widely as the Queen. I want to go public." (https://www.homicidols.com/we-interview-idols-yoneko/)
Yoneko seems to have had mixed feelings about going independent, but no worries because it has resulted in a few music videos and an EP! And everything can happen when Yoneko makes music. Genre wasn't a thing in the old groups Yoneko were in, and as little is it in the solo work. Electronic, rock, acoustic? Dance pop, indie, city pop? Mystical, nice, cheesy, raw? Bitpop, hyperpop, techno? Laidback, forward-leaning, neutral? Drum music, shoegaze, j-pop? Doesn't matter to Yoneko. But relax, the high-pitch cute-style Japanese vocals are always present no matter the genre. Yoneko wants to try all genres, and the dream doesn't look too distant after already having tried a whole bunch of them at 23 years old, and even before making a debut album.
The EP "I Have a Little Hangover" consists mainly of the music videos on Yoneko's Youtube channel. A nice EP where a lot happens in a short time, where the songs are interrupted by 10 second "soundtracks" which are hard to encode since they disappear too fast. The songs themselves are great. Beautiful and nostalgic. At times city-pop inspired, but more interesting, indistinct, majestic and cool. I sense a remenissing and dreamy vibe, and I'm excited about what's coming in the next verse. – and in the next EP.
And, does anyone know if Yoneko's pajamas party went off? https://camp-fire.jp/projects/75632/preview?token=3nlzbdh9
Golden emails