Gwen Stefani's lyrics are so weird (= good!!)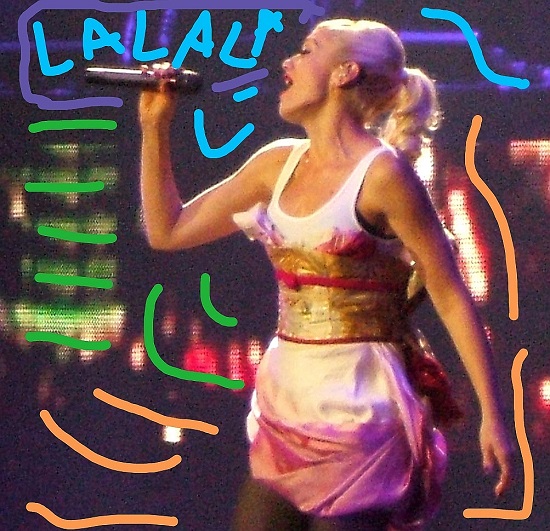 I re-published my old review of Gwen Stefani's album "L.A.M.B." ("Love. Angel. Music. Baby."), read it and then come back to this one. Now it's time to talk about the lyric side of this pop masterpiece and its sequel "The Sweet Escape", and try to understand what it says about the world (it says that fun is better than perfection).
"I can't wait to go Back and do Japan, Get me lots of brand new fans"
"I'm restless can't you see I try my bestest"
"Style detached from content, A fatal attraction to cuteness, Style is style, Fashion is fashion, Girl, you got style".
These are all song lyrics. She was so weird and carefree during this period. Let's see what Gwen herself thought about her weird mid-00s solo years:
"When I started thinking about this project, I was like, I'm going to make a wish list of my favourite talented people that are in the club now, like Dr. Dre, Andre 3000, The Neptunes," she recalls, "So I thought it was going to be a really fun, easy side project I could do and put out in a few months. It turned into this super-hard, long, drawn-out, life-challenging thing."
(source)

Gwen Stefani - What You Waiting For
"The solo records allowed me to indulge my girly side but it was never meant to be taken seriously," says Stefani, casually disowning several million record sales and a slew of Grammy nominations. "It was just like an art project that kept going longer than I expected."
(source)

Gwen Stefani - Don't Get It Twisted
"[…] But then going into the solo records, it was a different kind of freedom. There was no voting, no family, no democracy, no compromising. It was all indulgence. I could indulge not just my cheesy side but all the music that was the backdrop to my life. I could make music that was guilty pleasure. There were no rules, and I got to be the most creative I've probably been in my life, because I got to create a world and I had endless ideas and energy."
(source)

Gwen Stefani - Harajuku Girls
Gwen was feeling free while making these albums. It's like she thought of stuff, sang it once and then no one listened to the songs until the CDs were shipped. It must have been this way, otherwise she couldn't have written a song like "Harajuku Girls":
I'm fascinated by the Japanese fashion scene
Just an American girl, in the Tokyo streets
My boyfriend bought me a Hysteric Glamour shirt
They're hard to find in the states, got me feeling couture (it's really cool)
What's that you got on? Is it Comme des Garcons?
Vivienne Westwood can't go wrong, mixed up with second hand clothes
(Let's not forget about John Galliano) (no)
Flipped the landscape when Nigo made A Bathing Ape
I got expensive taste (oh, well) guess I better save up (cho takai)
Without knowing I would barely even guess these were song lyrics. This song gets me all worked up, it's so amazing because I don't understand it. This is not how you're supposed to do it. In a way, creativity is doing things like you're not supposed to, and perfection is doing things the way you're supposed to. That's why interior like this looks uninspiring even if it also looks objectively right. That's how it's SUPPOSED to look! I want music that's the opposite of that. I want Gwen Stefani's two solo albums from 2004 and 2006, because perfection is boring and a perfect way to put way too much time into making something less interesting. If you allow yourself to have a second thought, you'll remove some of the fun because it's not "serious" enough, and if you plan your ideas in detail you will lose the energy you had when you first thought about the ideas. Perfection is the enemy of creativity. But still, being as wacky and un-polished as Gwen Stefani was on these two albums is generally seen as not taking your art seriously. But if L.A.M.B. and The Sweet Escape are among the best pop albums of all time, maybe we have to rethink what being serious about your art actually means? Maybe perfection isn't the way to go, maybe being unpolished and sloppy is an as good, if not better, way to go?
Be relaxed and spontaneous, don't overthink and over-edit, do less and have more fun, you will create more fun and interesting things! (Read my text about quality and quantity to learn more about how to get more good job done by doing less, in another way)
Golden emails