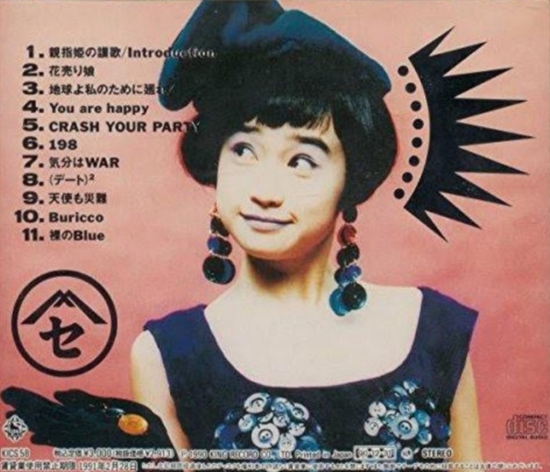 Who is Mami Yamase? A nice pop singer who suddenly freaked out. She debuted in 1985 as an "idol" (Japanese term) with an unprovocative image, quiet pop ballads and uptempo pop songs, but her career didn't go as well as expected, so there wasn't much more than one album. That is, before she changed her style completely. 1989 saw the release of "親指姫" ("Oyayubihime"). Unlike anything she had made before. Oyayubihime is a chaotic mix of everything. When chaos has gone on for too long, a quiet synth song comes, when it's been quiet for a while, madness returns, and to break the experimentation (and thus make it even more experimental and unexpected) a light pop song comes. Chaos and madness, a total contrast to her earlier innocent 80s era, which I don't think anyone saw coming.

Mami Yamase - Go! (music video)
The following year came the album "親指姫ふたたび…" ("Oyayubihime again…"), which managed to follow up its predecessor with an equally good album, following more or less the same recipe without watering down the concept completely. The drums are now computer-programmed, and the tempo is faster. A little less madness but at the same time more power. The intro sets the tone for the album by being completely unmotivated. Why so majestic? Why the scary synths in the background, why all the sudden rushing guitar solos? Why [insert everything]? Because! As unmotivated is the music video for "Go!" from the first album. I could tell you about all the cool 80s effects, the lava breaths, the hyperactivity and the extreme zooming in for hours, but the best thing is to simply watch the video yourself. The music video for "Burrico" from the second album is just as freaky. With its many random characters and colorful environments, it almost looks like the music sounds (see more cool visual stuff in album covers, booklets and stage shows). Lots of colors, abstract landscapes and nonfigurative patterns. Everything is everywhere, and it's constantly cheerful, hyperactive and cute. And you never get to rest from the madness.
The whole Oyayubihime project is consistent in its quality and in its experimentation. Everything seems to have been planned and created down to the smallest detail, while you also get a sense of playfulness and spontaneity. The first listen grabs me right away, and it never stops being entertaining no matter how many times I listen to it. It doesn't sound like any other music, not even anything from Mami Yamase's own career. Okay, the music partly reminds of 筋肉少女帯 [Kinniku Shoujo Tai], for obvious reasons as they were a big part of Oyayubihime's backing band. But their own albums don't hold the same level. Mami Yamase adds charm to their crazy music, making it more pop and accessible. Maybe a part of the album's strength lies in the combination of all the collaborators (such as people from パール兄弟 [Pearl Brothers] and Seikima-II).
What happened next? In 1993, Mami Yamase released her last album ("Might Baby"), a slightly updated and more jazzy version of her old 80s style, and after that there were only a few singles before her music career went completely silent in the late 90s. She has been more active in other areas of the entertainment world, however, as a radio and TV presenter and cookbook writer. She's still popular, but not for her music. Who will carry on the legacy of these albums, now that Mami Yamase herself has left them behind? Sure, it would be nice to see new artists and styles of music with influences from Oyayubihime, but maybe that would also themselves reduce the coolness of the albums. I kind of want Oyayubihime to testify to an inherent madness that (if one can dream) might be within every person, that one can fantasize about when watching any artist perform their material.
(This text was originally written in Swedish. It's translated with DeepL.)
Golden emails